What Happened?!?
Wednesday, August 29, 2007
First off, updated news is best found on bethanyjensen.com. Our updated contact info is on the left.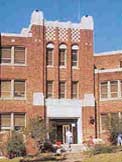 Second, we moved, and not just across the street. We were offered a job as a college president in Little Rock, Arkansas; and that was a heck of a lot of fun. But we knew outside senior executives last either a month or 20 years, and I turned out to be the latter. After a month I left and took a job teaching Spanish at Dunbar Middle School. So we still have a house for sale in Orem and are living in a tiny apartment here... I can't write much more about that, because Google loves our sites, and while that is always a blessing, it also means I've gotta' protect the party line. Don't worry, the euphemisms will ensue shortly...
Oh, so why the heck was our server down for 2 months?!? Because we had fiber at our old house, and knowing we wouldn't be able to find anything like that in Little Rock, let alone in an apartment in Little Rock, we left our old sturdy server in our old basement in Utah. Lo and behold, something went wrong and it went down an hour after we left town. We tried doing everything remotely, and ended up getting my parents to stop by when they were in town for the annual Jensen reunion in August.
Call me or Bethany today and get any updates, or click on our forum link.
If you know what you're looking for, use this Google box to search our site.It's quicker and less resource-intensive than browsing manually (which is slow but finds more). Plus this search engine has SafeSearch on!